---
THE TABERNACLE
Jesus came to earth as a man, but at the same time as God. He came in a tent which represents our flesh. "He dwelt (tabernacled) with us" (Jn. 1:14). The tabernacle was literally a tent, which the jews carried with them during the exodus, as a place where God would descend in to their presence. It was a temporary dwelling for God as the flesh of Jesus was for God. John 1:14 - "And the Word was made flesh, and dwelt (grk-skenoo) among us........ The greek "skenoo" is a derivative of "skenos" which means tabernacle. Jesus is a type of tabernacle, temporary dwelling or temple as our bodies are, also temporary temples of the Holy Spirit. The tabernacle, carried in the desert of Egypt was a temporary housing (temple) of God. Go to Tabernacle or click on the picture of the tabernacle below for more intriguing information about this structure and what it probably looked like to Satan as he looked down from the air, at the jewish encampment around it, in the desert. Jesus referred to Himself as the temple. That all said, I have read that it is a jewish custom to use an expression such as "He tabernacled with us" to mean that is the festival on which He was born. Maybe our jewish scholars can help me on this one? The Feast of Tabernacles is about booths, temporary dwellings, etc. I have heard it proposed that Jesus was on the Mt. of Transfiguration on His birhday or Feast of Tabernacles and that is part of the reason He was being visited. This is somewhat corroborated by the fact that Peter wanted to build temporary dwellings during the episode. Now, if all of this is true, one has to pick the year Jesus was born 3 or 4 BC, 0 AD, or whatever you believe, and then determine the date of the Feast of Tabernacles and that would be His birthday, probably the Fall of the year.
For additional documentation from Shofar Ministries: "Also called the feast of booths, the feast of incoming (ingathering, when all the fruits are gathered in)and the feast of lights( not to be confused with Chanukah, the lesser feast of lights), this seven day feast began on the fifthteenth day of the seventh month, the month of Tishri 15-21, and commemorates life in the wilderness God's provision and there temporary dwellings in the wilderness. For Christians, this day commemorates the birth of YESHUA. YESHUA the "LIGHT OF THE WORLD,WHO CAME AND TABERNACLED AMONG US."(John1:14) It is interesting to note that the Feast of Lesser Lights or of DEDICATION (Chanuka) occures nine months before on Kislev 25 The'INCARNATION'. Yeshua's birth at the time of The Feast of Tabernacles can easily be documented."
See the picture of the tabernacle (below), set up for worship and the sacrificing of sheep and goats (Jesus the Lamb). Click on the picture for a more detailed study of the tabernacle.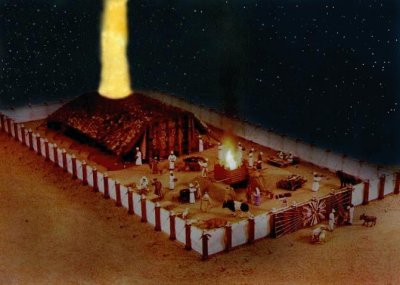 The jews carried this tabernacle (tent) with them wherever they wondered. The "yellow" cloud is the glory of God transcending into the "holy of holies" where a priest would go once per year on Yom Kippur (fall of the year) to sacrifice a lamb for the jew's past year's sins. The priest had to be ritually purified and only he was allowed to enter. A rope was tied around his leg, in case God "smote" him for not being righteous enough, so they could drag him out without entering the room.
Now that Jesus has come, God in the form of the Holy Spirit has been placed into the believer's body (tabernacle) to guide him. When Jesus was crucified on Passover, a lamb was also being sacrificed in the temple. Also, the 30 ft. veil that covered the opening to the "holy of holies" split from top to bottom, showing that it was no longer necessary for a priest to intercede for us. We can go directly into the "holy of holies" to God ourselves, through the Holy Spirit. WE DO NOT NEED A PRIEST TO ABSOLVE OUR SINS, ANY LONGER!!!!(Heb. 10:19) Jesus used the Holy Spirit to guide Him, also. He emptied Himself of His Divine nature so He could truly experience every temptation that we have or ever will. By totally and constantly communing with the Holy Spirit, He knew the Father's Will (His God-self) for Him every step of the way. Through this communion He was empowered to not sin and resist temptation. He was the perfect example of how, through the empowering of the Holy Spirit, we can resist temptation. As long as we are on this earth, we will only partially be successful. He arose, three days later, after Passover, on the jewish festival of "First Fruits", because He was the true First Fruits! He did not rise on Easter, a pagan holiday worshipping the god of sex or fertility, Ashtorah or I(E)shtar(with all of her bunny rabbits)! If we want to celebrate His resurrection, we should do it 3 days after Passover! Why were these festival and feast days changed. Constantine I, gives us a clue when he said, "It was declared to be particularly unworthy for this, the holiest of all festivals, to follow the custom[the calculation] of the Jews, who had soiled their hands with the most fearful of crimes, and whose minds were blinded. In rejecting their custom,(1) we may transmit to our descendants the legitimate mode of celebrating Easter, which we have observed from the time of the Saviour's Passion to the present day[according to the day of the week]. We ought not, therefore, to have anything in common with the Jews, for the Saviour has shown us another way; our worship follows a more legitimate and more convenient course(the order of the days of the week); and consequently, in unanimously adopting this mode, we desire, dearest brethren, to separate ourselves from the detestable company of the Jews, for it is truly shameful for us to hear them boast that without their direction we could not keep this feast. How can they be in the right, they who, after the death of the Saviour, have no longer been led by reason but by wild violence, as their delusion may urge them?" Antisemitism has prompted the "alledged" church to try to wipe the knowledge of Jesus' judaism from the record! The following site contains the works of Alexander Hislop which give one information on all of the pagan holidays that christians have adopted as we have become part of the world. Here is another good article on Easter from World Net Daily at . The following site has an interesting Poem about what we will celebrate during the Millennium.
No other god has lowered himself like our God. Pagan god's have not done this, because they are not real and do not care about their worshippers. Jesus' has "walked a mile" in our shoes! Matter of fact, He has walked a lot further in pain than any of us will, ever! What a God who really can identify with us! Through prayer, reading The Word (bible), and meeting with (fellowshipping) other believers, the Holy Spirit gives us power over sin as we are ready for it. We are so weak in the flesh, that if the Holy Spirit gives us too much control, too soon, we will be "puffed up" by it and lose our humility, which is a true indicator of christian maturity. Any pride will keep us out of God's presence. Only God knows our needs. We only know our wants, like a child who will eat candy just before a meal, not having the maturity to know this will "spoil" his appetite and keep him from eating the quality food. We are like children going through the "terrible two's" to God, most of the time! Those of you who are parents can really relate to this! If you learn only one thing from my long diatribe, it is this, I hope! We are incapable of one righteous act in our flesh! Only the Holy Spirit can show how to do any righteous act. Only He knows the thoughts of others and even us (Lk 16:15). He knows our motives in any thing we do, before we even know them. No other religion gives this ability to its believers. This is why to follow Jesus, you can truly make a difference! And remember, it is not you making the difference it is God (Eph 2:10)! By letting Him work through you (submitting is our only work that counts) you will find the only lasting joy available while on this earth. If you do not, you will flounder your whole life, from one job to another, one relationship to another, one drug or shopping spree or food or sporting contest or anything elsed to another, while trying to find true meaning in life. Take the easy path which is narrow (empowered by the Holy Spirit Who wants to do all of the work) for the other path is wide and most will follow it and spend eternity where they want, separated from God. Pray daily (1Thes 5:17, Lk 18:1). Read the Word (Bible) daily (Acts 17:11, Ps 1:2). Witness for Jesus daily (Acts 5). Confess your faith in Jesus daily and be baptized (Mt 10:32, Acts 2:38). Attend Church where Jesus is taught from sound historic Christian doctrine (Heb 10:25). Keep Jesus' commandments (Jn 14:15). If you can't find a church where you get at least 45 min. of the Word on at least Sundays or you don't like the "topical" style of most churches and would like verse by verse teaching of the Word from beginning to end, try a Calvary Chapel located nation-wide by clicking on Map
Email me atjohn_hrrsn@yahoo.com, if you have questions or want to know more, because I love to talk about my God! My God likens me to His future bride and like any pending bride I love to talk about my betrothed and about our future wedding day when He will truly, totally take care of me in the way that is best for me!!!
---
RETURN TO CONTENTS